Aviation Projects
Bemidji Regional Airport – Bemidji, Minnesota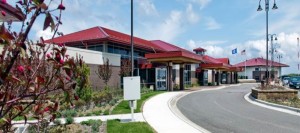 The $8 million building expansion project increased the building foot print from 14,000 square feet to over 30,000 square feet.  The interior lighting consisted of high efficiency fluorescent lighting utilizing daylight harvesting for increased efficiency and energy savings.  The exterior wall pack fixtures and under canopy lighting were led types to further reduce energy consumption.
The existing terminal building's 800 amp electrical service had been previously upgraded from a 120/208 volt system to a 800 amp, 277/480 volt system during the electrical services building construction project in preperation of this terminal building's expansion project.  The design also included adding additional emergency power provided by the airside gen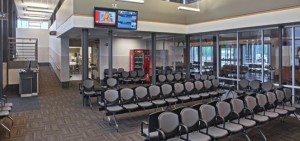 erator located in the electrical services building.
The previous heating and air conditioning system was replaced with a new geothermal system to maintain the same overall operating costs even while the building doubled in size.
In addition to the building project, the adjacent aarf building was reconstructed and similar lighting and power systems were installed.
New metal halide ramp lighting and parking lot and entrance road lighting was installed the following year under separate projects as funding permitted.
This project was selected as the "Project of the Year" in 2011, Minnesota Council of Airports (MCOA).
General Airport Electrical Systems Designs
| | |
| --- | --- |
| Metering center for a hanger group at the Richard Bong Airport located in Superior, Wisconsin. | Electrically-operated vehicle gate at Wittman Regional Airport located in Oshkosh, Wisconsin. |
| Electrical services metering for two voltages. The services serve the electrical services building, two FAA services, Mesaba Airlines, Airport Terminal and AARF facility at the Bemidji Regional Airport located in Bemidji, Minnesota. | Typical PAPI light box installation at Fillmore County Airport in Preston, Minnesota. |